Facebook Advertising and E-commerce
What can you expect from Facebook advertising for your e-commerce business?
At first glance, you may think that Facebook advertising and e-commerce businesses are so closely linked that the platform was designed with this type of business in mind.
But to understand the platform, we must first ask ourselves the right questions.
What does an e-commerce business need?
It's tempting to answer, "A qualified audience that gets redirected to the business' website." But, it's important to note that a high traffic volume does not guarantee quality leads or conversions.
Google Ads allows businesses to promote their services and products to customers who are already looking for them. It's a logical and one-of-a-kind platform for such purposes. But how can Facebook Ads help convert people who aren't even looking for a specific e-commerce yet?
From the way its users use it, Facebook is able to identify people who have an interest in your market, but also who tend to add products to their cart or even make a purchase from an Instagram or Facebook ad.


So when you decide to generate sales via Facebook Ads, Facebook optimizes your results to find as many potential customers as possible. To do this, it utilizes a number of targeting tools, including Lookalike audiences.
This technology allows you to use a customer database, for example, to create an audience with the same profile. This enables your campaigns to achieve higher conversion rates.
The second step is to create a retargeting strategy.
Someone who clicks on your ad may not immediately make a purchase. That's why the Facebook Pixel and Conversion API lets you track purchases for up to 7 days (after the user clicked) and 1 day after view.


Facebook Ads Events Manager
This same Pixel also helps you target audiences effectively on Facebook and Instagram, as well as externally via the Audience Network. This is the set of mobile sites and apps that display ads in partnership with Facebook. In 2018, the platform estimated that it received more than a billion people on this Network.
Finally, it gives you access to highly effective Facebook ad formats like the infamous DPA or Dynamic Product Ad. This ad format is automatically generated according to the products your prospect visits on your website.

The DPA is THE Facebook campaign to implement when you're an e-commerce business, because it gives you the best of what the platform has to offer in terms of machine learning, and allows you to create Instagram Shop ads. It's also a format that is particularly well-suited to mobile devices, as it's so interactive.
The last thing an e-commerce needs, of course, is sales. 
This isn't just theory; J7 Media has itself succeeded in generating sales via Facebook Ads.

The Perfect Black Friday with Facebook Ads
Canadian brand Coco Village sells children's furniture and toys.It's an e-commerce that largely benefits from ads on the Facebook News Feed and in Stories. So much so, that it's our second client to earn a case study on Facebook's website!
But perhaps the most impressive is our own case study. With just a $100,000 investment, we were able to generate $678,000 in sales from the Facebook Ads Manager.

Quadrupling An E-commerce's Revenues
Ontario Télescope is another of our clients. They asked us to manage their social platforms with the goal of increasing their sales.
This was a very interesting challenge for J7 Media, as this client sells quite expensive products. We're talking about telescopes that easily reach upwards of $2,000 before tax.
So, we developed Evergreen Facebook campaigns to warm up cold audiences and then convert them via limited-time Flash Sales.
If all this jargon sounds complicated, just remember that we multiplied the store's sales by 4 thanks to Facebook Ads.

Starting From Scratch With Your E-commerce
Clinique Virtuelle is a very young company that came to us at the very beginning of its commercial development.
It was a challenge for J7 Media, as we had to develop a Facebook advertising strategy for the brand, which had no history on the platform or in its industry.
Importantly, this company sells weighted blankets and emotional management courses, which were expensive and not widely known.
In 12 months, thanks to Facebook advertising, we managed to find Clinique Virtuelle's target audience and generate $300,000 in sales per month.

J7 Media: Your E-commerce and Facebook Ads Growth Partner
As you can see, helping grow e-commerce accounts via Facebook Advertising is one of J7 Media's specialties.
We owe this expertise to the millions of dollars we've invested and managed over the past few years, the vast majority of which have come from our e-commerce clients. When you work with J7 Media, you benefit from the steep learning curve we overcame through advertising for these kinds of businesses.
Understanding your acquisition funnel, bringing it to life on your platforms of choice, and generating leads via Facebook advertising is a process we've mastered entirely. That's why Facebook recognizes us as experts in the field and has even granted us a unique certification.
But these aren't the only things that have earned us our clients' trust.
In addition to each Media Buyer and Account Manager having one or two personal certifications, the J7 Media team also maintains close relationships with the advertising platform.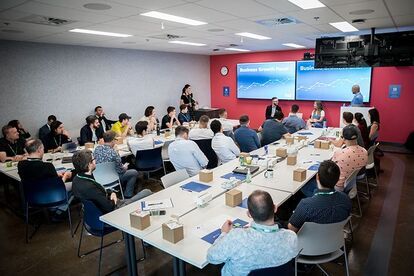 J7 Media's Facebook Advertising Summit
In 2019, we organized the Facebook Advertising Summit in partnership with the American firm. For one day, some of our clients received advice from experts who flew in from Chicago, especially for the occasion.
In 2020, we repeated the experience with a webinar featuring a Partner Manager, a Sales Manager and a Marketing Science Expert from Facebook.
In 2021, we co-hosted the Hypercommerce event, which included over 4 hours of webinars, 180 live viewers, 400 views, and several guest speakers from Facebook!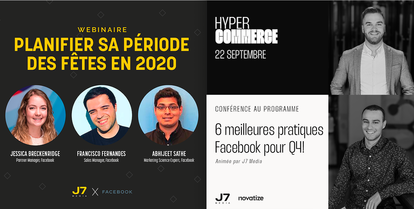 Our Webinars with Facebook
For over an hour and a half, we delivered a wealth of educational content and best practices to clients and an audience of business leaders.
Are you interested in J7 Media helping you generate conversions and leads with Facebook Advertising?
In that case, fill out this short questionnaire to take advantage of a free Facebook Ads analysis.
More to discover: