What you need to know about Facebook Ads in 2021
November 19, 2021
Brand Safety
In order to protect its clients' brands, Meta (Facebook) created a control called Topic Exclusion back in January 2021. This tool allows advertisers to choose which topics or content they do not want their ads to appear next to, such as News & Politics, social issues, or content related to Crime & Drama.
After a preliminary trial test, Meta noticed that the selected advertisers chose more than one topic to exclude between 94 and 99% of the time. For Meta, these were great results and one of the main reasons they've now chosen to open this tool up to more advertisers.
However, Meta is not resting on its laurels and plans, in 2022, to accentuate this option even more in order for brands to have total control over their brand image. Meta will even be announcing upcoming partnerships that will help make this development a reality.
But, in offering this tool to advertisers on Facebook and Instagram, Meta isn't neglecting users. Indeed, they also plan on testing a new feature that will allow users to control and customize what content appears on their News Feed.
————————————————————————————
Call Ads - New Ad Format!
Meta knows that using Facebook Messenger or WhatsApp to get in touch with a company or brand before making a purchase is very common on its platforms. To feel more secure in their order, users often need to communicate with the brands they are buying from.
This is why Meta has launched a brand new ad format:Call Ads, an ad that will appear on the Facebook Feed and Marketplace (on mobile only) that allows users to directly call the advertiser/brand with the click of a button.
This offers brands many benefits, such as:
A more immediate connection with their prospect
More flexibility, as users and brands will be able to schedule when to receive/make a call
More flexibility in choosing which phone number to use. It is likely that you can be directed to a central number that is distributed over all available lines if you work in a call center.
For now, this format can only be paired with Traffic and Conversion Objectives.
————————————————————————————
Instagram Stickers
A super interesting new Instagram test is coming in January 2022!
As soon as you put a link in your story, the 'SWIPE UP' button appears at the bottom of your story. The problem is that if your story ad also features text, the two elements often overlap, which diminishes the quality of your ad.
For this reason, Instagram decided to test out a sticker for story URLs to replace the 'Swipe Up' button.
The test seems to have been a success, as it is planning to make this feature available to 5% of its advertisers worldwide!
In the long term, Instagram may even decide to officially replace the 'Swipe up' button.
————————————————————————————
New Lead Ad Function
Flexible Form Delivery is the new term you'll see when using the Lead Ad objective for Instant Form ads.
To simply all of the technical jardon surrounding this novelty, this feature makes it possible for users to choose between filling out a form as usual, or messaging you directly on Messenger if they want to contact you when clicking on your Lead Ad!
An incredibly interesting option that will make it easier for advertisers to test out what works best when it comes to Lead Ads as Meta assures us that it will be easy to compare different results and that you won't have to have two different campaigns and a divided budget to run your tests.
But, although Meta always pushes advertisers to centralize their campaigns, I think the data might be difficult to compare...
Especially when it comes to lead quality.
Because how do you compare the quality of a message versus a lead on the same platform? While a lead may message you once, they may not respond afterward. For a standard lead, you'll at least have them in your email database for future communication.
To be clearer, Messenger inevitably involves human action (and relies on human collaboration) while a lead can be more easily automated at a standard marketing scale.
————————————————————————————
Special Ads Category Updates
Meta is again reacting to advertisers' feedback and updating its Special Ads Category (or SAC) terms and conditions. As a quick reminder, these are ads that promote banking solutions, loans, finances, employment, housing, and social and political causes.
If there's one thing to know about SAC campaigns, it's that audience targeting is extremely limited.
This is why Meta decided to no longer impose this ad category if you are defending a social cause and your ad promotes the sale of t-shirts, bags, and other such goods.
Let's use Black Lives Matter as an example. If the movement wished to sell BLM t-shirts, they would have had to use Special Ad Category. Today, this is no longer the case.
Meta explains this by the fact that the primary function of such an ad is not to influence people but to sell. Because yes, even social movements and organizations need money. We can't help but imagine that social causes and organizations were thus incredibly restricted with the old policy.
To take advantage of this new feature, your ad must very explicitly show that it sells a product or service. It must be present on the visual and include a call to action to make a purchase in the rest of the ad.
If the process seems simple enough, it obviously isn't. If we were you, we'd prepare for the incoming headaches. Whether your ad will get approved depends on your message and what you say in your copy (e.g. our company is working to reduce its carbon footprint, etc). Chances are, you won't be eligible in the end.
Following extensive feedback from their civil rights and usage policy experts, Meta will be changing its audience targeting options in January 2022.
To do so, they'll be removing the following interest categories:
Health, e.g. World Diabetes Day, Chemotherapy, Lung Cancer Awareness
Sexual orientation, e.g. LGBTQ, same-sex marriage
Religious practices, e.g. Catholic Church, Jewish holidays
Political themes, social causes, and charities
For advertisers who are still using these interest categories before January hits, Meta will be informing you of which of your ad sets will be affected and offer targeting alternatives.
These ad sets will be active until March 17, 2022, before being stopped without further delay by the platform.
Personally, I think this is great news for users.
Now for advertisers, it's a different story. It's certain that there are plenty of niche advertisers that use the interests I mentioned above, such as dating apps, religious apps, or insurance providers.
With this announcement, Meta is thus encouraging advertisers to quickly test broad audiences or other similar targeting strategies before the deadline.
As we've seen with BROAD audiences, Facebook is able to reach your audience even if it's nested. I think they'll continue to keep this information internal won't share it with advertisers anymore.
October 28th, 2021
Facebook is now META
On October 28th, Facebook held the hugely anticipated 8th edition of Facebook Connect. The source of this anticipation? An article from The Verge that mentioned that there was a high probability that Facebook would be changing its name, only to be announced during their presentation.
For over an hour, Mark Zuckerberg, CEO of the Facebook Group, made his appearance in a presentation riddled with special effects to tell us about the group's biggest project: the Metaverse.
According to an official press release from Facebook, "The metaverse is a set of digital spaces that are all interconnected so you can easily move between them. It will feel like a hybrid of today's online social experiences, sometimes expanded into three dimensions or projected into the physical world. It will let you share immersive experiences with other people even when you can't be together — and do things together you couldn't do in the physical world."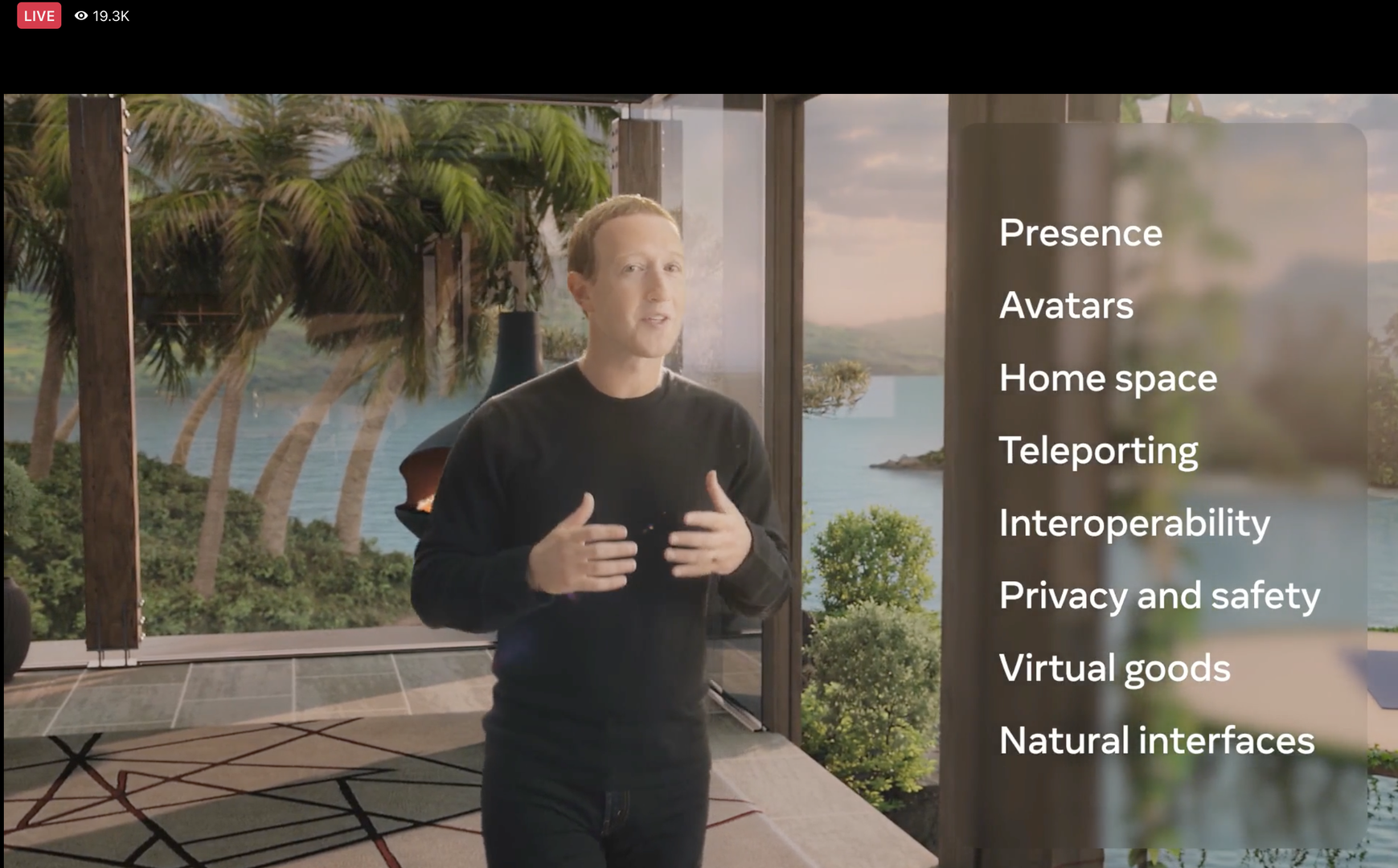 Mark Zuckerberg summarizes the 8 key points of the project.
Although this project will take over 5 to 10 years, Facebook is already making great progress and has already deployed significant resources – starting with the 10,000 Facebook job openings in Europe to support the project!
The highlight of the show was, of course, the announcement of Facebook's name change. From now on, the Facebook Group will be called META.
According to its founder, this new name better reflects the group's considerable new ambitions and vision.
A fascinating story to be continued!
October 20, 2021
Facebook Announcement
Following Graham Mudd's statement as Facebook's VP Product Marketing, we know that November will be full of updates for advertisers. Highlights :
More attribution reporting through Aggregated Event Measurement (AEM), SKAdNetwork (SKAN), and through modeling
Expanded AEM and SKAN conversion reporting capabilities
Improved campaign management for SKAN campaigns, in addition to back-end performance updates to help improve SKAN performance
Testing App AEM with advertisers who run Catalog Sales with plans to expand availability in the new year
October 13th, 2021
Facebook Smart Glasses (in collaboration with Rayban)
Facebook is releasing glasses in collaboration with Rayban.
The glasses will allow users to take photos, 30-second videos, listen to music and podcasts, and even answer phone calls, all for just $299.
The content users record will be imported into a new dedicated application: Facebook View, which allows you to edit and share this content on Facebook, Insta, WhatsApp, and Messenger but also Twitter, Tiktok, Snapchat and other platforms.
Work Account
Facebook has been testing 'Work Accounts' over the course of 2021 and hopes to develop it on a larger scale next year.
As of right now, we don't have much information on how it works. Perhaps a Business Manager will be able to create an employee account and then transfer the login information to the people who need to work on the account.
Special Ad Category in Europe
Starting September 28th, all European accounts in Finance, Politics, Housing and Employment will have to use the Special Ad Category.
The system will be reinforced starting December 7th.
For European advertisers, not following this request will simply result in your campaigns being rejected.
The Metaverse
The Metaverse has finally been put into production, according to Andrew Bosworth, VP of Reality Lab at Facebook,
The Metaverse will be a series of virtual 'places' where you can explore and create with others who are not physically with you. You'll be able to "hang out" with friends, play games, shop, learn, create and even work (Horizon Workroom, their VR work tool, comes to mind).
To achieve this, Facebook has released a $50 million investment in research and partnerships to properly develop the project, with an estimated release date of 10 to 15 years.
October 1st 2021
Facebook Ads & Cost Cap
When you use the Cost Cap feature, sometimes your budget doesn't get spent because Facebook Ads wants to ensure it doesn't exceed your target cost. This disagreement made enough noise to warrant an update that will allow you to more efficiently spend your budget despite constraints, as of September 29th. Facebook is aware that some advertisers may see their CPA increase and recommends that advertisers review the true value of their conversions.
Audience Targeting
Starting October 5th, the audience tool 'Potential Reach' will become 'Estimated Audience Size.' No other huge updates, except this one significant change: your Estimated Audience Size will no longer be a fixed number, but a range.
Conversions are already measured as such, and Facebook simply wants to make things consistent across the board.
Optimization & Conversion
Facebook will soon launch a tool called Cross Channel Conversion Optimization(CCCO), which will allow advertisers to optimize for web and mobile conversions in a single campaign at the same time.
With CCCO, you will no longer need to create separate Web and App campaigns, which can weaken your overall performance and budget spend. However, for its debut, CCCO will not be available for campaigns targeting iOS14.5 users.
Facebook is working on making this tool available to all advertisers as soon as possible. A tentative arrival date is by the end of October!
Instagram & Bugs with Third-Party Cookies
In August 2021, Instagram noticed that a bug had been deleting all third-party web cookies captured via Instagram Mobile Browser on iOS. For example, all a user had to do was click on an external link (such as an ad), which would cause the Instagram Mobile Browser to launch and clear all third-party cookies. This bug may have affected some advertisers and their conversions, which can be traced back to a change in the app.
Facebook has announced that on October 4th, the bug will be resolved and that some cookies will even be restored!
New Feature for Businesses & Shops
From this point on, when a customer purchases from you, they will be able to answer questions that other prospects have about your services/products (visible to all other shoppers)! The tool will be available to all US advertisers using Shops at the end of October.
We can't wait to see a feature everywhere, as it will give businesses even more credibility if their customers are satisfied with their products.